2017 Spring Creek National
The 2017 Spring Creek National produced great racing, dramatic finishes, and the announcement of another retirement! The track conditions are always grueling at Spring Creek, but on Saturday with all the morning rain, this year Spring Creek was one of the gnarliest we've seen in a while.
Trey Canard Throws In The Towel
Aside from racing, 2008 250 SX, 2010 MX Champion, and 2010 Motocross of Nations Champion Trey Canard will no longer be lining up on the gate. Although he has added these titles to his trophy case, Canard's career has been plagued with injuries. In an interview with Transworld MX, Canard stated that …"although the spirit is willing, the flesh is weak, and I know in my heart it's time to call it a day." which is highly respectable. It is hard to see such a talented rider stop racing, but at the end of the day, it is what's best for him.  We wish him the best for his future adventures!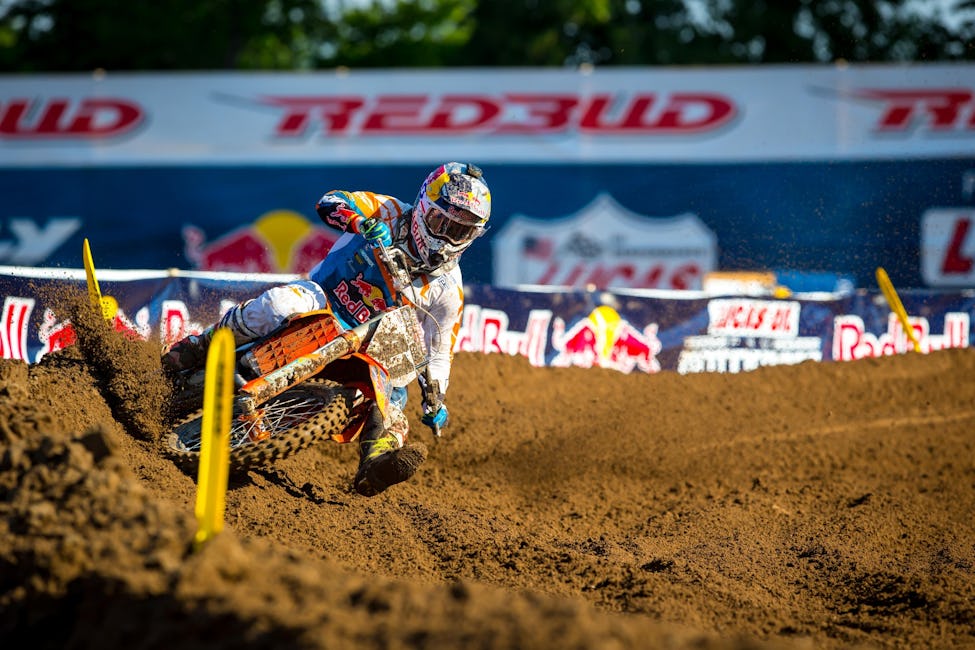 250 Moto 1
Moving forward into the racing at the 2017 Spring Creek National, the motos were filled with nail-biting action. In the 250 motos, it was all Joey Savatgy from start to finish. He was challenged off the start by RJ Hampshire, but a bobble before the sand whoops allowed Savatgy to take the lead and the moto 1.
Considering this track is home to the Martin brothers, all eyes were on them. Unfortunately, J-Mart had a rough day in moto 1 and couldn't find his groove, allowing Alex Martin to claim the title as the better brother. One rider who had an unbelievable ride was Zach Osborne. With 6 minutes left in the moto, his Husqvarna lost a radiator hose and it looked like his moto was over. Somehow, someway, Osborne kept his bike alive and was able to finish 8th! The point's leader came up big in moto 1 for round 8 at Spring Creek. The end results for moto 1 is as follows: Savatgy, A. Martin, and Aaron Plessinger.
250 Moto 2
Moto 2 was a night and day difference for Zach Osborne. Although McElrath grabbed the holeshot and followed by Savatgy, Osborne made pass after pass to battle Savatgy for the lead. Osborne was on a mission after his first moto mishap and took the win for moto 2. Osborne grabbed 3rd overall on the day and was able to keep his points lead. Once again, Alex Martin dominated his little brother and grabbed 4th for second overall.
Jeremy Martin had his fair share of struggles throughout the day .Moto 1 wasn't the worst for him as he finished 4th, but moto 2 got the best of him. He got booted off the track after nearly looping out in the middle of Mount Martin. Luckily, Martin was smart about his re-entry and made it as safe as possible without gaining an advantage. That wasn't the end though, a few turns later he would lose the front end and go down again. This allowed Osborne to continue his charge and make his way to first. The final results of moto 2 are as follows: Osborne, Savatgy, and McElrath. The overall results for the 250 Class: Joey Savatgy (1-2), Alex Martin (2-4) and Zach Osborne (8-1).
450 Moto 1
450 Moto 1 started with Marvin Musquin with the holeshot and the early lead. Following up his podium, Dean Wilson trailed Musquin. These two got out to a great start while Tomac and Baggett had to fight their way through the pack. Tomac went on a passing spree and took over the second place position after making moves on Baggett and Cooper Webb.  Baggett didn't make much progress after this, but he found his way into 6th by the end of the moto. With all of the battling going on, Musquin was able to open up a 20 second lead on Tomac and would win moto 1.  The final results for moto 1 are as follows: Musquin, Tomac, and Wilson.
450 Moto 2
Moto 2 had an exciting start as local boy Henry Miller grabbed the holeshot, but unfortunately tucked the front wheel and went OTB. Next in line for the lead was Justin Bogle followed by Musquin, Tomac, and Baggett. It seemed to be that we would finally see the title contenders battle for a moto win, but ended up getting cross rutted and took a digger on one of the down hills. Luckily for him, the field was spread out enough that he didn't lose too many positions. He was still inside the top ten when he remounted his bike! This made it easier on him as he would do his best to track down the race leaders, but was unable to match the pace of Musquin and Baggett.
Musquin was able to slip pass bogle in the sand even with a bobble that could have been catastrophic. It was Marvin Musquin's day as he checked out and when on to win moto 2 by nearly 16 seconds! The Frenchman would get his first sweep in the 450 class, by a mile! There was simply no stopping Musquin at Spring Creek.  Baggett would end up 15+ seconds back in second and Wilson came across the line in 3rd. The overall results for Spring Creek are: Musquin (1-1), Wilson (3-3), and Tomac (1-5). Tomac still leads the series, but in his press interview he still didn't seem stoked. It just goes to show how badly these guys want to win after all the hard work they put in during the week.
-Nick B.