The Moto-9 Spark Helmet Is Here.
The Bell Moto-9 Spark Helmet is one of the most feature-laden helmets that Bell has to offer. Built on the famous Moto-9 frame, this newest motocross helmet from Bell is meticulously designed and beautifully crafted!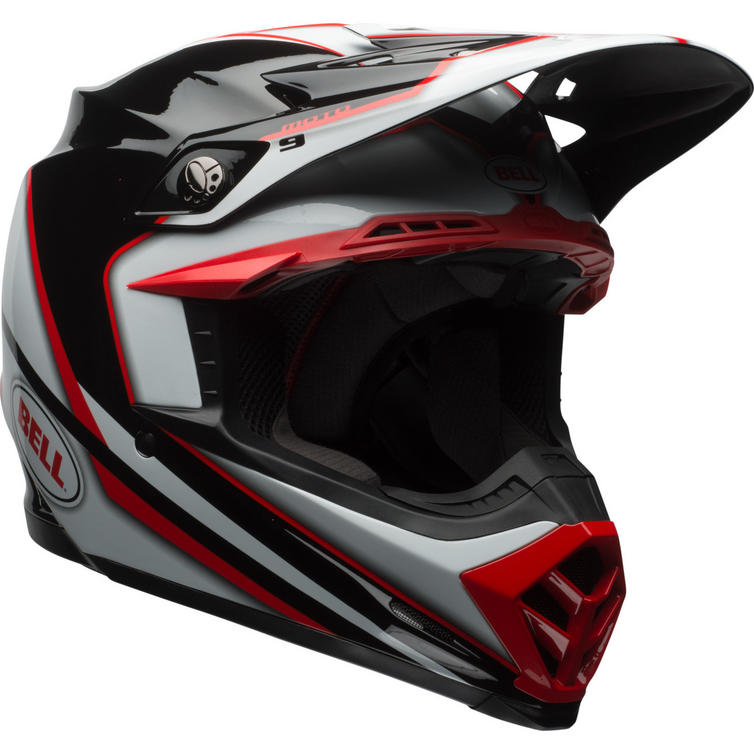 These dirt bike helmets have race-ready styling which makes you stand out at the track. Bell knows that when you look good, you ride good! BTO Sports knows this idiom well also, which is why we can hook you up with the perfect motocross apparel to match this incredible helmet. If we did not answer all of your question please let us know. You can give us a call toll free at 888-613-3393 or drop us an email at [email protected] .
Not only are the graphical designs and technological advances some of the finest in the industry, but the comfort settings for this Moto-9 Spark helmet are second to none. Moreover, they are the same ones found in their wildly popular Moto-9 Camo Helmet.
A padded chin strap and a removable/washable x-static XT2 Silver Liner are the most important features inside this helmet. Not only do they keep your head in the helmet, but it also keeps your head nice and comfortable. Furthermore, after a long day of riding, it is simple to clean afterwards. Critical! Because who wants to spend their night cleaning out their helmet after a long day on the bike?
Moto-9 Spark Core Technologies
As you would expect, The Moto-9 Spark helmet is as sophisticated on the inside as it is dazzling on the outside. In fact, that's the key to any lasting motocross gear. The Tech that goes into these helmets will have you feeling safe and ready to dominate! Let's look at the big three tech advancements found in these helmets:
Magnefusion Emergency Release System
Allows for easy removal of the pads for washing and enables emergency responders to easily remove the cheek pads first before removing the MX helmet following an impact.
Tri-Matrix Composite Shell
A proprietary mix of Aramid, carbon fiber, and fiberglass delivers all the strength of carbon fiber in a more budget-protecting package.
X-Static® and XT-2® Padding
Quick-drying pad materials, woven with real silver fibers, inhibit growth of odor-causing bacteria and fungi.
–
In summary, the Moto-9 Spark helmet is loaded with features. Bell clearly has a dedication to both safety and comfort, not unlike the makers of fine motocross boots. Including a Matrix Shell, Velocity Flow Ventilation and their renowned X-Static Liner. Also included is the now-famous Flying Bridge Visor, along with Magnetic Cheekpads & Strap Keeper.
Bell Helmets also have that tremendous eyeport, which leaves bountiful peripheral space for today's great dirt bike goggles. Oh, and don't forget the industry-leading five-year warranty. The Moto-9 continues to dominate just like the athletes who ride them.
The Moto-9 Spark Is Here @ BTO Sports
Our team here at BTO Sports will do our best to help answer any and all question you might have. All of the Bell Moto 9 helmets will ship with free 1-3 day air shipping which is part of the BTO Advantage. Also please let us know right away if the helmet does not fit you properly. We will never charge you a restocking fee to exchange for a new size, change out to a whole new helmet, or even refund your credit card. These are just some of the things we do to be your one-stop shop for all things wheels.
Ready to order your own Moto-9 Spark Helmet? It's right here at BTO Sports! Bell is a fine company of quality that you can definitely depend on. Their warranties show the amount of confidence they have in their MX products. As a result, you get an industry-leading warranty that lasts 5 years. That's why BTO Sports is always a proud purveyor of fine Bell Helmets and motocross gear.
RELATED ARTICLES YOU MIGHT LIKE:
CL has been blogging it up for BTO Sports since the days when Bob "Hurricane" Hannah ruled the motocross roost. In fact, his guerilla-style coverage of the now-infamous "Massacre at Saddleback" is now considered one of the great MX blogs of all time. Enjoy the blogs, folks- that's the whole idea!