The MotoGP Weekend Was "Crash Central"!
The crashes aren't why we watch the racing of MotoGP, but a good crash can really change the fortunes of all these amazing street bike riders. It's what makes these races so compelling from week to week as they all chase the podiums.
Check out this video, detailing the MotoGP carnage in Argentina:
Published on Apr 13, 2017
A detailed look at the cause and effect of the noteworthy crashes from the #ArgentinaGP.
The Crashes Were Aplenty…
Marquez
Marc Marquez (Repsol Honda Team) had a stunning start from a stunning pole position at Termas de Rio Hondo in Argentina, and pulled away with an incredible lead until disaster struck. Losing the front end into Turn 2, the reigning Champion then lowsided out into the gravel suffering his first DNF of the year.
 
Marc Marquez, DNF: "I'm ok after the crash, I was feeling really good with the bike in the Warm Up, we'd made a big improvement and I was feeling amazing on the bike. I was riding really well – the crash was unexpected, I must have made a mistake and it cost me a lot. These kind of mistakes are disappointing because I was feeling really good and really strong. Now we have to think about Austin."
Lorenzo
Jorge Lorenzo (Ducati Team) had a difficult P16 starting position in the Gran Premio Motul de la Republica Argentina, but the 'Spartan' made a great getaway as the lights went out to make up a good number of positions – until contact with Andrea Iannone (Team Suzuki Ecstar) put paid to the charge and the Mallorcan crashed out of contention from mid-pack.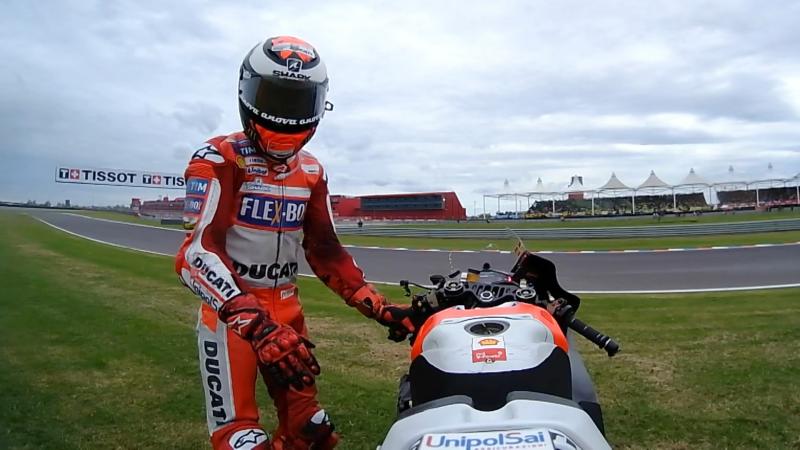 Jorge Lorenzo, DNF: "I had made a great start and managed to pass four or five riders. But coming into the first corner it was all rather chaotic, with a lot of riders trying to overtake each other under braking. I was on the inside and suddenly I found myself coming up on Iannone. Unfortunately I touched his rear wheel and crashed out.
It was a real pity that I never even managed to get through the first corner of the race. Because today I had a good feeling with my bike. But now we have to look ahead and continue to work in a positive way like we are doing already."
Rins
Alex Rins (Team Suzuki Ecstar) opened his MotoGP™ career as top rookie in Qatar! But the Suzuki rider then suffered a fracture in his ankle in a motocross training accident before the Gran Premio Motul de la Republica Argentina. He goes into the weekend fighting through the pain barrier after being passed fit to ride.
Rins makes a good start despite the setbacks, before then crashing out later in the race. And unable to restart after exacerbating the pain from the injury. Now it's physio time for the former Moto3™ title contender, as he focuses on Texas.
Craziness!
And there were others… many others! The next event will be a chance for these riders to redeem themselves and get back into the overall points chase.
And for all of your own street bike protection (because crashes happen everywhere!) come on over to BTO Sports. We can keep you safe from street bike helmet to street bike boots!
Resources: motogp.com, YouTube
RELATED ARTICLES YOU MIGHT LIKE:
CL has been blogging it up for BTO Sports since the days when Bob "Hurricane" Hannah ruled the motocross roost. In fact, his guerilla-style coverage of the now-infamous "Massacre at Saddleback" is now considered one of the great MX blogs of all time. Enjoy the blogs, folks- that's the whole idea!