Sidi Gas Boots Rule The Streets
Today we take a long, hard gander at the Sidi Gas Boots- a glorious combination of retro style and modern street boot technology. Prepare to be impressed, as Sidi has made an impressive low-rise street boot that fits like a dream! But not to worry- they also have the standards to hold up as a remarkably functional motorcycle boot! After all, it's Sidi, right?
These Gas Street Boots are part of the Sidi "SDS" Series. In other words, the Sidi Design Series.
SIDI DESIGN SERIES or S.D.S. is a collection of products that are designed by Sidi's engineering/design team but are produced by outside suppliers. Obviously, the preference is to keep it very clear what items are manufactured at its own factories. Also, what items are sourced to outside suppliers.
In this way, the integrity/value on the Sidi brand is maintained for all its clients and riders alike! Yet at the same time, providing the market some interesting new products from the new SIDI DESIGN SERIES brand. It's a win-win for the industry.

These great street bike boots are made for both men and women. The Grey/Pink version (pictured above) of these boots really pop! The Sidi Gas Boots have a perfect look for the ladies who ride. Whenever you are looking for style AND performance- it's gotta be Sidi Boots! A perfect complement to any street bike apparel.
Let's get into these tremendous street bike boots!
Gas SDS Street Boot Features:
• Special shaped collar area provides comfort and protection
on ankle areas.
• Hidden lacing tapes and big ankle velcro for best
adjustability.
• Special protective material hidden inside the upper on ankle
area and special rubber coating protecting the gear shift area.
• Moulded removable insole.
• Two colors rubber outsole with special Italian flag detail.
• It is the proper shoe for both urban and suburban
motorcycling use, matching sporty and casual look.
The Sidi Story
In 1960 SIDI began as a craftsman's workshop manufacturing mountain sports footwear. In the 1970's SIDI begins specializing in cycling footwear and boots for off-road and on-road motorcycling. Dino Signori, founder of SIDI, combines a passion for cycling with more 50 years of experience manufacturing innovative sporting footwear.
Thanks to this passion and a deep, intuitive knowledge of the business SIDI becomes the market leader in cycling and motorcycle shoes. After half a decade, SIDI already creates a unique balance of tradition and innovation. Their style and comfort make SIDI sporting footwear exceptional in the industry.
Highlighting the strong identification between the company and its founder, the Sidi logo started off as a union of DIno SIgnori's initials. In 1974 the logo becomes the one we all know today with the addition of the vortex symbol representing strength and movement.
From a simple logo, the Sidi trademark has become one of the most recognizable and known brands in the business.
On A Mission
Tradition, values and commitment combined with an efficient international distribution network make Sidi a company that is present all over the globe. Furthermore, they make the Sidi Gas Boots!
Because of their guaranteed quality, SIDI footwear is chosen by millions of athletes. Since 1960 SIDI has researched and developed highly technical footwear. Why? In order to achieve the maximum in reliability and comfort. Combining innovation with a half-century of experience; the SIDI brand evokes a passion that goes beyond that of just a company.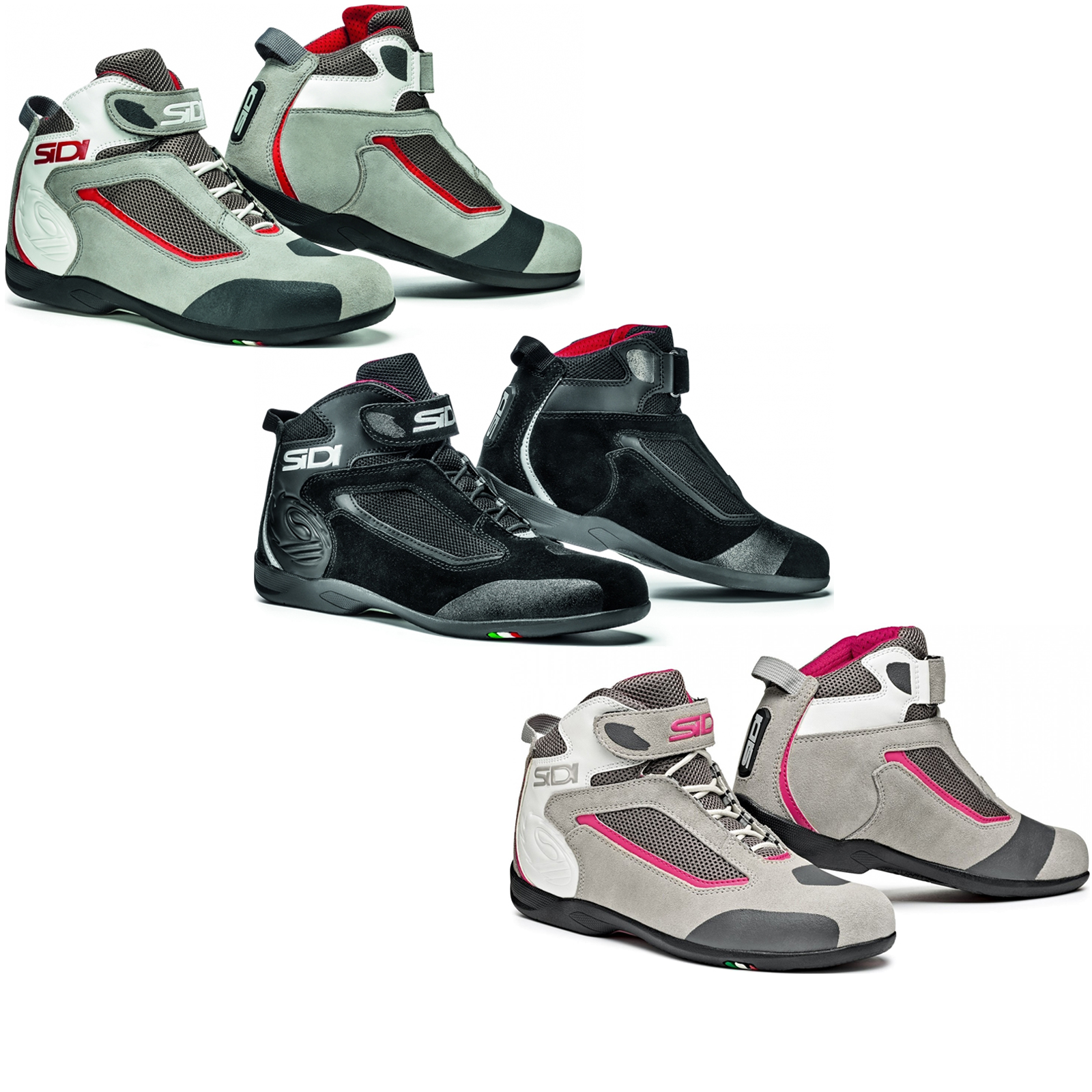 Sidi @ BTO Sports
Whether it's the streets or the dirt track- both Sidi and BTO Sports are here to get you ready to roll! Furthermore, BTO Sports has the prices and lightning-fast shipping to get you started that much faster. Come on by today!