Top 5 Pieces of Entry-Level Adventure Gear
Adventure Touring is becoming the fastest growing form of motorcycling on the planet. So naturally, a Top 5 List to get started is a flat-out necessity! Why? The romantic notion of leaving it all behind and hitting the open road is becoming a reality for more and more people every year.
And if you've got the itch, and need to get started- this is the list for you. This Top 5 list will cover the basics and get you on the road to nowhere before you can say "Route 66″…
And away we go!
The first item on any Top 5 list involving a motorcycle should be a helmet, right? LS2 has taken a whole new approach to full face adventure helmets. While the engineers at LS2 have worked hand in hand with their riders to create the most innovative dual sport helmet on the market. Since the unique design of the LS2 Pioneer MX436 Element Helmet allows it to handle roads or adventure riding. It has so many great features that make it one of the best adventure motorcycle helmets.
The LS2 Pioneer Element offers riders everything they need for serious adventure riding. The Element is crafted out of their patented kinetic polymer alloy (KPA), a combination of polycarbonate and thermoplastic materials. This gives the dual sport helmet a considerable amount of protective capability, while providing puncture resistance and shock absorption. Underneath the KPA layer is a multi-density EPS layer, a foam layer that also aids in shock absorption.
Believe the hype…
The LS2 Pioneer MX436 Element Helmet is well ventilated which makes this helmet great for hot weather and desert terrain. There are vents located on the chin bar, top and sides of the helmet, with an exhaust port on the back. The vents allow cool air to flow into the dual sport helmet, while the back ports allow hot air to escape. This air circulation is critical for staying comfortable on adventure rides. LS2 adventure motorcycle helmets come equipped with a twin shield system, which includes a sun visor and shield. The sunvisor can be deployed and retracted through the use of a manual lever on the side of the helmet, great for dynamic lighting conditions.
Next up on the Top 5 is this great riding jacket from Fly Racing. What sets this one apart from the rest?  The Terra Trek 4 Jacket features an Air Induction System allows for maximum venting featuring straps that force the chest vents open allowing for maximum air intake venting. Large zippered intake vents are located on the shoulders. Hot air is exhausted through large vents located on the back. Additionally,  HYDRAGuard protection makes garments durably waterproof, windproof and breathable so that you stay dry and comfortable!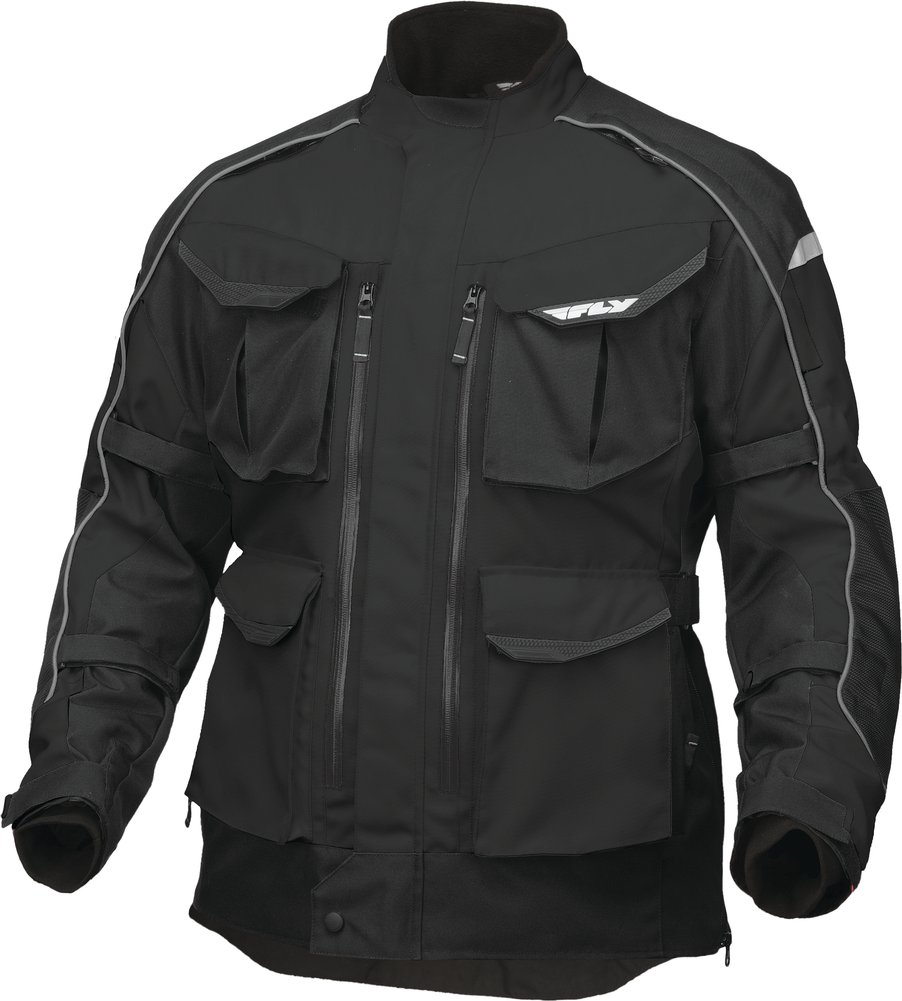 Here's a great video review of the jacket – enjoy!
Let's talk boots… it's a Top 5 List after all! And when you're talking boots for motorcycle riding of any kind, Alpinestars is always a safe bet!
The Corozal Adventure boot is a premium multi-material adventure touring boot that is loaded with class leading protective features. Starting with an advanced polymer shin-plate and innovative lateral ankle protection with supporting biomechanical link between the upper boot and lower foot structure. Every feature of this boot is deigned for weight-saving and performance regardless of the weather you enter.
The Alpinestars Corozal boot stands apart from any other boot by not only the features, but also its size. The height of the Corozal boot makes this the perfect boot for any Adventure rider that wants a little more flexibility in their boot. So you can say this boot is kind of in between a motocross boot and a street boot. This boot also features excellent grip with a compound rubber sole for on or off the bike.
We tried to tell you- Alpinestars makes great stuff. Why not pair up your Corozal Boots with the top Adv Glove on the market! This Top 5 we have going on is no joke.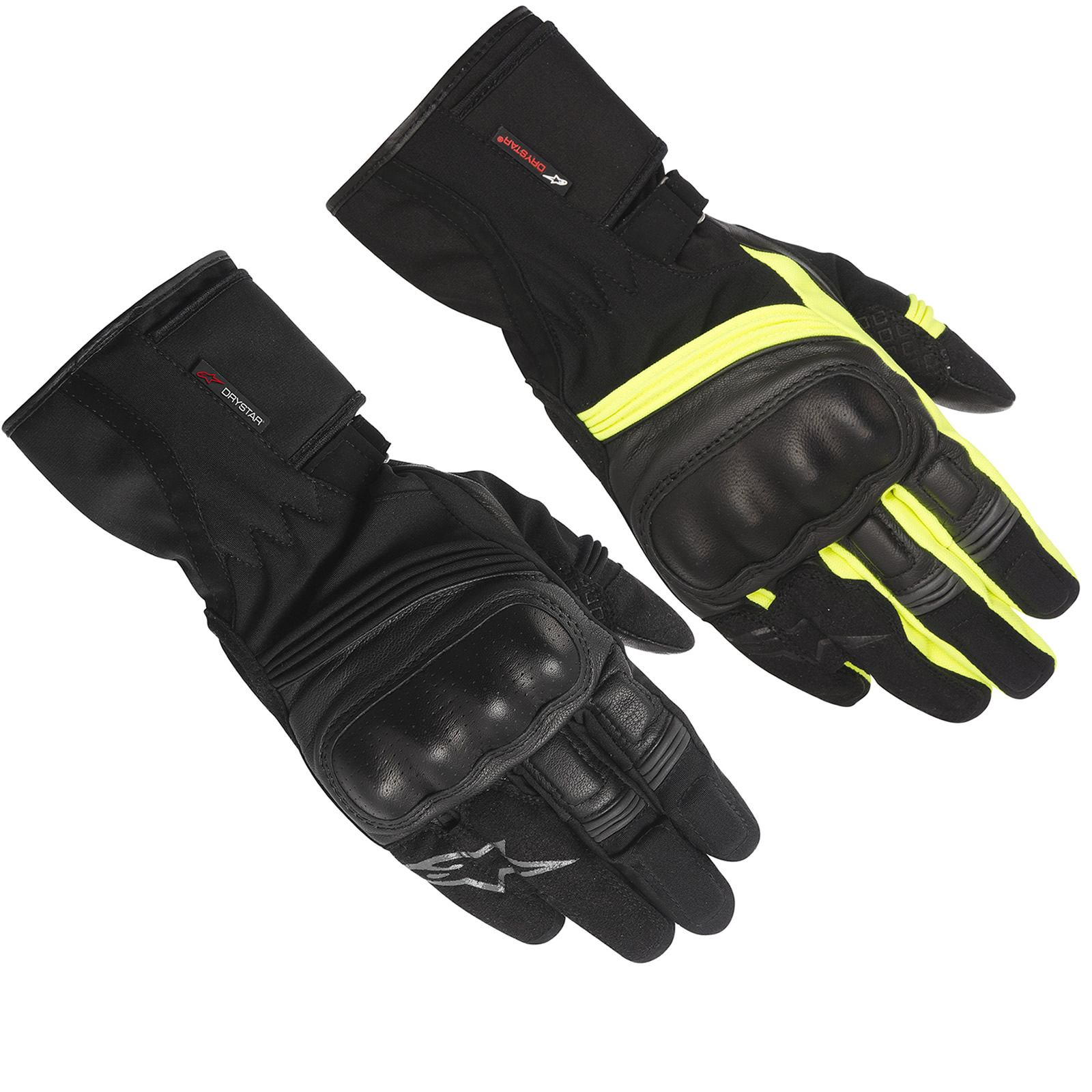 The Valparaiso Drystar gloves from Alpinestars are all about performance in a wide variety of conditions. Aimed at the adventure touring rider, the design features a construction that can take on rain storms, adapt to summertime heat and survive hard impacts. Alpinestars own lightweight Drystar membrane is largely responsible for this adaptability and together with the full-grain leather, PU knuckle protectors and joined finger bridge, this is a glove that can work in sport, touring and commuting situations.
Let's finish off this Top 5 Adventure Gear list strong! The highest quality motorcycle saddlebags and luggage has been produced by Nelson Rigg for more than 30 years. All of their motorcycle saddlebags are universal fit with unique and secure mounting systems. So whether you're riding a sport bike, naked bike, Harley Davidson, cruiser, sport touring, dual sport or Adventure motorcycle, Nelson Rigg has a set of saddlebags for you.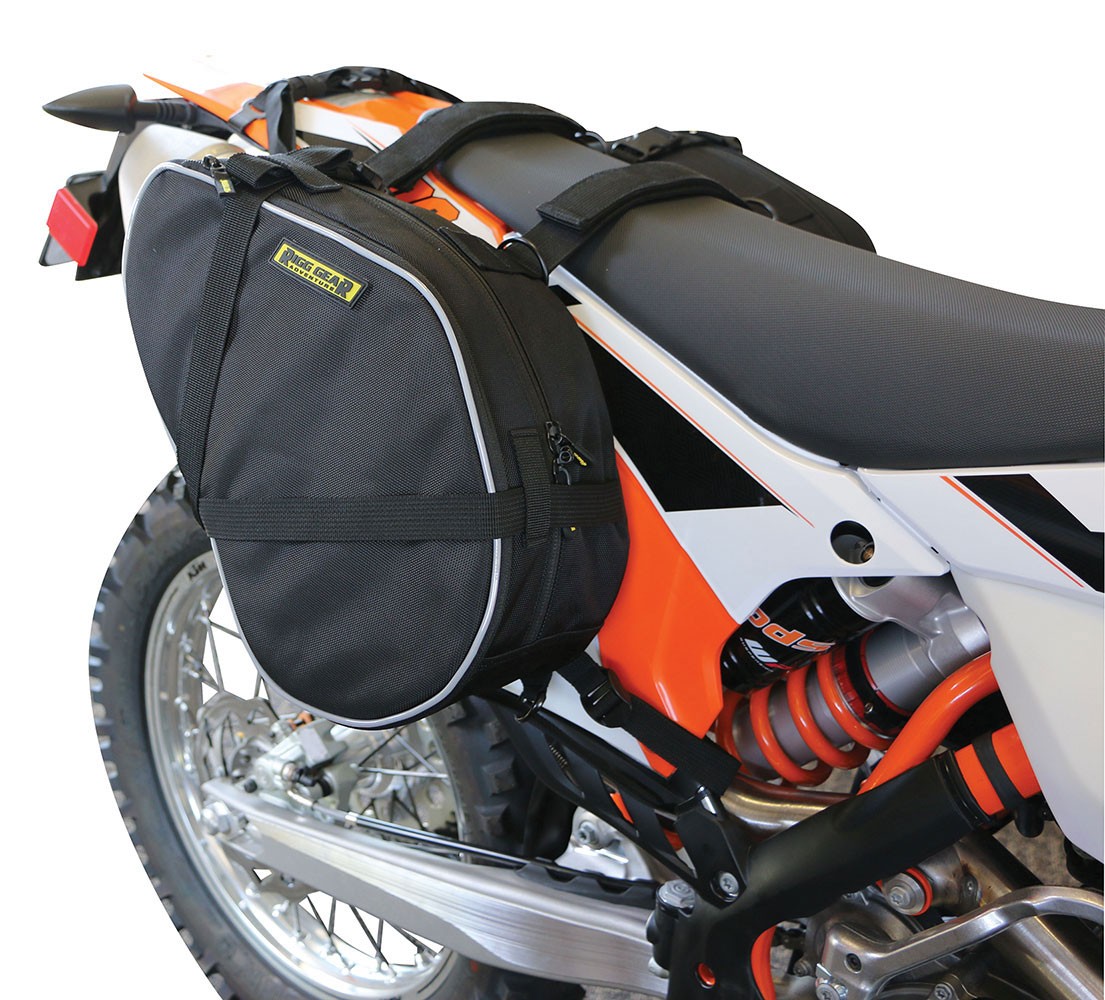 Spec Sheet | RG-020 Dual-Sport Motorcycle Saddlebags 
RG-020 expandable main compartment for extra storage
Tool pouch/pocket under main compartment with external access
Securely mounts with heavy duty Self-Fastening straps and quick release buckles
Universal fit for most dual-sport, enduro and Adventure motorcycles
Anti-slip/scratch protective panel
Top quality UV treated and water resistant 1680D Tri-Max Ballistic nylon
Reflective piping and accent for nighttime visibility
Reverse coil zippers help keep out dust and dirt
Rubber coated oversized zip pullers operate easily with gloves
Includes our Lifetime Warranty
At Nelson-Rigg, they use the latest technology, design and innovation in all of their award winning accessories. Additionally, they've been producing the very best motorcycle apparel, soft luggage and motorcycle covers since 1972. That's why you can trust Nelson-Rigg. They're dedicated and committed to maintaining the highest level of manufacturing quality in the industry. All materials, components and construction methods are tested by them and independent testing facilities to ensure the highest standard of quality and workmanship. Therefore, you can be confident! When buying your Nelson-Rigg product, you have purchased the very best on the market.
BTO Sports Has What You Need
Finally, all of these Top 5 products can be had right here at BTO Sports. Because we want to get you started on your next adventure asap! So, come on over and look at our entire Adventure and Touring section. You are sure to be impressed with both the selection and the prices! As a result, you will be one happy rider.