This product has been discontinued
Fly - 2012 Zenith Neck Brace
Product Code: FLY-2012-ZENITH-NECK-BRACE
Description
Reviews
Customer Photos
Fly - 2012 Zenith Neck Brace
The Zenith Neck Brace by Leatt. There is currently no other neck protection system available for motorcyclists that can effectively help prevent all neck, head, and upper spine injuries. The design rationale behind the Fly Racing Zenith is to bring the head to a controlled stop. This is achieved by providing a padded rigid structure that acts as an alternative load path for neck forces. Helmet impacts otherwise transmitted from the helmet to skull and then to the neck are re-directed from the helmet to the brace to other body structures in a safe way.

The design of the Zenith Brace prevents the helmet/head from projecting over the brace and therefore prevents a fulcrum action, which has been documented in literature pertaining to the use of collar devices. The Fly Racing Zenith Brace works with most types of body armor and chest protectors. It is also suitable for use by Superbike riders. Over long distances, the Zenith Brace will also offer some relief from neck fatigue. Only leathers with a hump require minor modification. The replacement strap kit will accommodate different riding positions

The Fly Racing Zenith Brace is compatible with all motorcycle helmet types and their design allows riders an adequate range of movement. The Zenith brace is designed for use on all motorcycles and ATVs for competition use, recreational riding and daily commuting.
Patented Alternative Load Path Technology™ helps reduce forces on the spine, and disperses energy away from critical areas, during impact. This principle is pivotal to the Zenith Brace design
Padding is biomechanically designed to cushion the chin
The thoracic member is engineered to keep the brace in position, so it doesn't tilt forward or backwards during an impact
The rear-upper support acts as a 'crumple-zone', giving way under a severe load
CE certified: Personal Protective Equipment directive 89/686/EEC
Two red-colored release clips identify emergency openings to paramedics
Universal bolt heads require a single adjustment wrench, and are also compatible with multi-tools.
The Zenith Brace is made using only high quality materials like Kevlar®, Carbon, fiberglass reinforced plastic, and shock-absorbing Biofoam. (Biofoam is also fully replaceable and machine-washable)
Maximum adjustability is achieved through four independent adjustment points
Every product has been chemically tested and certified, so it's free of lead or other harmful additives
These braces are adaptable for use with body armor and chest protectors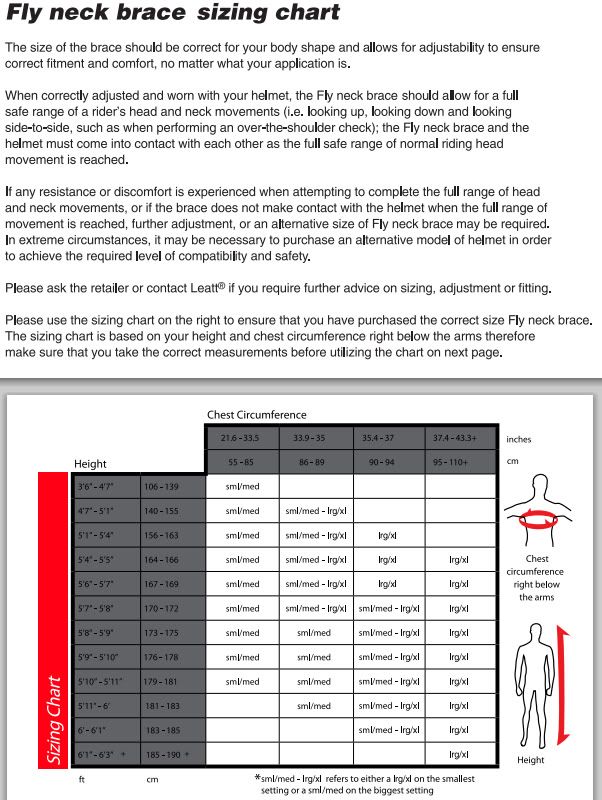 Comments about Fly Racing Fly - 2012 Zenith Neck Brace:
Got the neck brace to go with the rest of my Fly gear, and i'm pleasantly surprised by how well it's made. very impressed!!!