This product has been discontinued
Leatt Brace - GPX Offroad Club 3 Neck Brace
Product Code: LEATT-BRACE-GPX-OFFROAD-CLUB-3-NECK-BRACE
Description
Reviews
Customer Photos
Leatt Brace - GPX Offroad Club 3 Neck Brace
The GPX Offroad Club 3 Neck Brace is the genius result of taking a best selling product and deciding to make it just that much better. This new evolution of the Leatt Club Brace is constructed from an all new material known as LEATT® High Impact Polymer (LHIP). The one of a kind material is proven to maintain higher levels of durability than its predecessor under a wider range of temperatures and conditions. The new Leatt GPX Club 3 Neck Brace also features 5 way adjustability which gives it a much wider spectrum of fitment options for riders of all shapes and sizes. The ability to adjust the heights of the front and rear tables is brand new, and this allows for a better and more comfortable fit for riders with all types of different helmet shapes and neck lengths. All Leatt Brace protective products are designed by medical professionals and engineers with your safety in mind. As with all motocross and dirt bike protective gear, investing in the best beforehand can save you big time down the road. Got questions? Our experts are ready to answer them!
Specifications:
New proprietary chassis material – LHIP (Leatt High Impact Polymer)
New, lighter weight, clip-on padding made of Crosslink
New wider, reshaped rear Thoracic strut
New tougher, more foolproof hinge system
New more comfortable chest strap system
New translucent red and blue colors
Worn and trusted by more riders than all other neck bracers combined
As always the Club 3 features Alternative Load Path Technology™
As always the Club 3 is 5-way adjustable making it the best fitting brace in the world
As always the Club 3 has a collarbone relief section
As always the Club 3 has a breakaway rear strut and crush zones for enhanced safety
Two side hinges are simple to use for both right and left handed riders and bright red color helps identify them to track workers or paramedics
Padding kit removable/washable
Replacement parts available.
CE Approved to Personal Protective Equipment directive 89/686/eec
Size medium weighs 1.80 pounds, without optional chest strap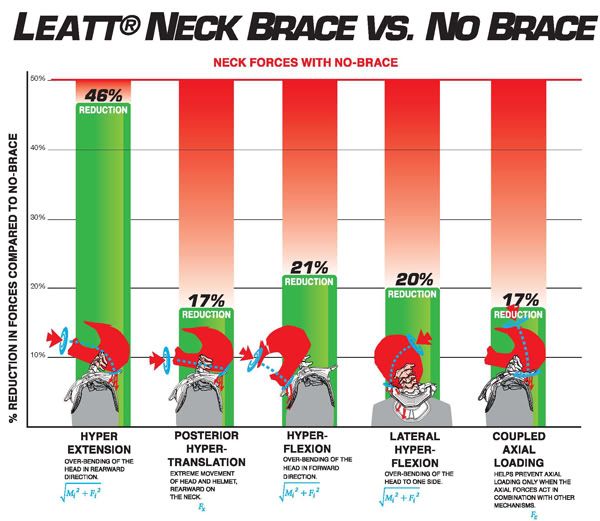 Don't even notice I'm wearing it.Good
Micko
Western Australia
Good product
Roni
Pori, Finland
Fantastic product - a must have
I wouldnt let my boys ride without a Leatt neck brace. They have been riding motocross since age 4. A fantastic item, that can save their life. I know of many people that swear by the Leatt neck brace and have saved a neck break on several occasions.
Motocross mum
Australia
Being on a dirtbike, it protects my neck and I feel safer with it on.i like it you can adjust it to fit. Its very comfortable to ware
sissy339
east moline, il
Further to my previous review, the reason I got the Leatt from here was because it was cheap. In Ireland the same Leatt brace will sell for €540 ($740)! After postage with a few other bits it came too €201. I got hit for €34 duty! Buy it as I have not found it cheaper anywhere else!
dubscottie
Dublin, Republic of Ireland
Worth every cent! Fits so perfectly that I can leave it on while on the tarmac between trails without it preventing me rom looking over my shoulder..
Dubscottie
Dublin, Republic of Ireland
This is a great brace. It supports well, comes with good directions, and comes with several size adjustments.
L4cl4c
Stockton, Ca
Love the adjust-ability, looks great, and after about 10 minutes of riding with it for the first time I didn't even notice it was there
Dustache
Alberta, Canada
Great brace, extremely comfortable, hardly know it is there after a couple of rides!
Braap 125
Michigan
I would buy this product again and again
High level of comfort lightweight design A substrate of soft foam material, absorbing shock Substrate can be removed for cleaning
palmira333
RUSSIA MARI-EL
Leatt Brace - GPX Offroad Club 3 Neck Brace
100.0