This product has been discontinued
Leatt Brace - GPX Carbon Pro Neck Brace
Product Code: LEATTBRACEPRO
Description
Reviews
Customer Photos
Leatt Brace - GPX Pro Brace
The lightest Leatt-Brace® available 550g ± 50g!

Kevlar reinforced Carbon Fiber Matrix chassis

Anodized CNC spring loaded aluminium hinges are easy to use for both left- and right handers. Its bright red color ensures easy identification by paramedical personnel in an emergency situation.

Alternative Load Path Technology™

New open celled light weight Velcro-free padding is removable & washable.

Engineered Collarbone cutout to help keep your helmet and brace away from one of your most fragile bones.

Unique one piece rear support (thoracic) designed to break away in severe impact scenarios.

The greatest range of motion of any Leatt-Brace®

Comes with harness system with quick-release buckles.

On-board rear thoracic angle adjustment.

Adjustable sizing to fit riders according to Leatt® size chart. Available in size M

Replacement parts available

Free Brace Bag included ($100.00
Convert value)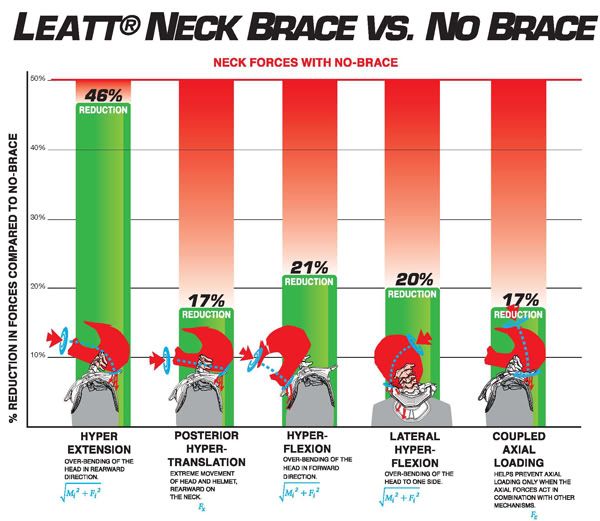 Work well with leatt body vest.
Jesse
Australia
Great price! Excellent fit, love it!
I was skeptical about the size small, but upon trying it was and is the most comfortable reassuring brace I've ever worn. I'm 5'11 and it fits perfectly.
Lindsey
Elkhart, Indiana
Very pleased, would buy from BTO again
Purchased this neck brace for my wife who races downhill. It was easy to setup and easy to use.
Tim R
CO Springs
Quality brace.
Kdog
Austin
This neck brace is pretty slick, very light, nice construction, easy to dial in a comfortable fit and works well with my gear (roost guard, helmet and backpack). It's fairly restrictive, compared to some other models/types but provides better protection because of this. The brace itself and the limited range of motion become unnoticeable while riding, unless you try to look behind you.
Hardknocks
Alberta Canada
Great neck brace! Is an awesome product. It's super light and comfortable.
DS90
ELIZABETH, NJ
Great Product, Great Service, Great Price. I would buy again
I wish the deck height was adjustable, but for the money BUY IT!!.
Landon 44
Murphy's MX Texas
Excellent quality, I would buy this again
Comfortable and light weight, good protection!
Flyrider
Roanoke VA
I like it but it takes getting used to.
I ride and race with it every time I go. It's great
Mx81
Caddo mills,tx
Leatt Brace - GPX Carbon Pro Neck Brace
100.0