This product has been discontinued
Leatt Brace - Moto GPX Club 2 Brace (Small)
Product Code: leatt-brace-moto-gpx-club-2-brace
Description
Reviews
Customer Photos
Leatt Brace - Moto GPX Club 2 Neck Brace
The Leatt Club 2 brace represents the newest version of the best selling motorcycle neck brace in the world. Leatt has upgraded and improved the Club brace over time but the Club 2 has so many improvements it had to get a whole new name. Leatt offers the only neck braces that help protect riders from all 5 types of head/neck impacts using Alternate Load Path Technology™. This technology helps disperse impact forces away from critical areas onto less vulnerable areas of the body and is pivotal in the design of all Leatt braces. Five easy to use adjusting points allows for a customized, precise fit to insure that the brace does it's best to help protect you. Light, comfortable, easy to fit and highly protective.
Improvements include:
a. 5 chassis colors
b. Clear harness system
c. Modified front table adjustors removes protruding metal pins
d. Padding modified to allow more ventilation
e. New two piece padding eliminates scratchy Velcro® at back of neck
f. New pad shape improves comfort and durability
g. Adjustment "wedge" for easier adjustability and a more precise fit
As before all Leatt Club braces offer:
Invented by a doctor, developed by bio-medical engineers
5 way adjustability
CE approved to: Personal Protective Equipment directive 89/686/EEC
Chassis is made from lightweight, durable, injection molded, fiberglass reinforced polyamide resin
No hard plastic surface that can injure chin in a severe crash
Engineered collarbone cut out section helps insure that brace, and helmet, avoid contact with the collarbone
Two side hinges are simple to use for both right and left handed riders and bright red color helps identify them to track workers or paramedics
Carbon fiber/Kevlar® strut engineered to break away in severe impact
Replacement parts available
Comes with optional harness system with quick release buckles
Comfortable biofoam & lycra padding
Padding kit removable/machine washable
Club
Materials – Glass Reinforced Nylon Upper and Lower
Weight: Medium – 850grams


Small: 4 - 16 years old (thin build)
Medium: 16 years + (average to bigger build)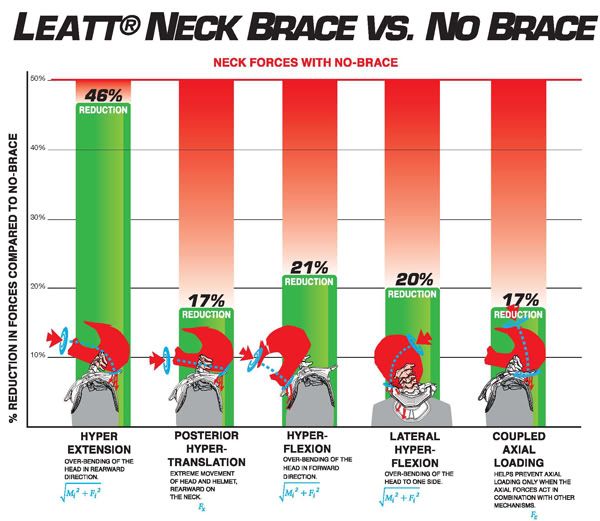 -Motocross good for just riding, don't really notice it on.
B
Oregon
Very happy with this neck brace, I have purchased these along with the chest protectors and my kids dont even notice them on. I feel better knowing I am giving them the best protection I can. Thanks Leatt !! DEFINATELY RECOMMEND
Mum of 4
Qld, Australia
Leatt Brace - Moto GPX Club 2 Brace (Small)
100.0